DISCLAMER:
this pages uses animals has
reference only.
the earth needs all
animals to keep
nature in balance
THERE IS A GIANT BATTLE THAT RAGES WITH IN MYSELF
ON ONE SIDE THERE IS THE HOWLING WOLF
THE WOLF REPRESENTS THE WORST THAT LIVES WITHIN ME........ THE FEAR, INSECURITIES, THE SELF-CENTERNESS, ANGER, RESENTMENTS, GUILT, DENIAL, EGO AND ANYTHING ELSE THAT WILL BRING ME DOWN
THE OTHER SIDE OF THE BATTLE IS THE SOARING EAGLE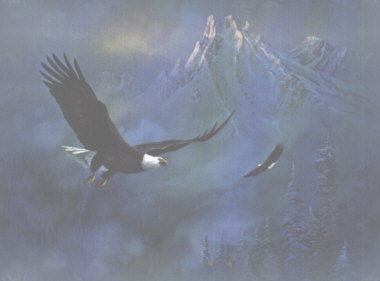 THE EAGLE REPRESENTS THE GOOD THAT LIVES WITHIN MYSELF...... ACCEPTANCE, FAITH, COURAGE, FORGIVENESS, FREEDOM, UNCONDITIONAL LOVE AND ANYTHING ELSE THAT GIVES ME STRENGTH
DO YOU KNOW WHO WINS THIS GIANT BATLLE ?
THE ONE I FEED

PLEASE SIGN MY GUEST BOOK
I am grateful for Tripod for hosting my web site